I have been doing the Daily 5 for both of the years I have been teaching. This gives me a chance to meet with small groups through the week! I love my small group time. I have a horseshoe table that allows me to sit comfortably and be surrounded by my kiddos! I got the opportunity to do a product swap with Miss Dianna over at Sassy, Savvy Simple Teaching! This is my second "big bloggy" activity I have gotten to be involved with! I am so glad
The Primary Gal
is so connected and is giving me the hook up!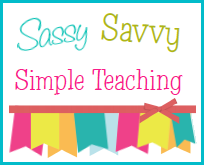 Click here to check it out at TPT!
Dianna put together a great reading bundle! The first one her Guided Reading Skills and Observations Checklist. I <3 checklists! This one has quickly become part of my top ten list of favorite checklists It includes 6 checklists based on Guided Reading Levels. Each checklist is driven towards specifics reading behaviors & comprehension questions. Each checklist allows me to keep track of the student's reading behaviors for six different times. This sure helps save paper and I can compare new times with the old! I can track their behaviors based on their appropriate Guided Reading Level.
Each checklist has a list of comprehension questions too. This is so handy when my mind blanks and I cannot think of what to ask as quickly as I would like!
The second part to the bundle is her Guided Reading that will help you get organized and start your small groups/guided reading groups. It even has mini anchor charts that are chevron!(That is kinda my thing if you hadn't guessed:)) She even includes a Guided Reading cheat sheet to help you figure out what you should do on what days! I got my new guided reading group papers organized in my handy dandy binder last week. I started using them this week! There are a couple pages that help you organize the students you want in your groups. You could organize them by skill level, guided reading level, daily 5 groups, or whatever works for you! I sort my students by skill level and call them to the table during Daily 5 time. Students usually meet with me for a group and a half. We rotate every ten minutes or so.
I haven't quite nailed the whole teacher handwriting... sorry:)
Once my students were seated, I handed out the leveled readers that came with our Journeys reading series. For my lower group, I have a more specific outline of what we are working on. I can list student names, sight, vocab, and review words, and what skills we will use for before, during, and after reading the story. I can also add notes for each day. The page I used for my higher groups was a comprehension guide. It lists all kinds of comprehension skills that should be worked on through out the school year. I circled the ones that were our main focus for this week. I can also list notes on this page. Along will my guide pages, I have individual pages for my groups that allow me rate how the students are doing with comprehension, fluency, unknown word strategies, and sight words. I use this for all my groups! As my students are reading, I can easily rate them from 1-3 on how well they are doing. This helps me assess what we need to focus on the next time my group meets.
There is a page that focuses on unknown word strategies and another for recording running records, which are both great for primary grades!
a Rafflecopter giveaway